SMALLCRAFT CLASS
Type 18H shuttlecraft
Affiliation:
Federation, Starfleet
Classification:
Personal shuttlecraft
Service period:
2380s,
2400s (alternate timeline)
Length:
14.8 meters
Width:
3.2 meters
Height:
4.8 meters
Decks:
1
Specifications
No. of decks:
1
speed:
Capable of at least warp factor 6
Maximum speed:
warp 9.5,
warp 9.8
(emergency speed, 40 hours)
Cruising speed:
warp 9
Armaments:
4 type V phaser emitters,
2 micro torpedo launchers
(both quantum and photon torpedoes)
Defences:
deflector shields,
ablative armor,
stealth technology
The Type 18H shuttlecraft is a Starfleet auxiliary support craft attached normally to starships and stations to be used for long range missions. This type is designated as a class three shuttlecraft as it mainly built to be operated by more than two people for longer duration.
It was specifically designed for senior ranking Starfleet and Federation officials and Starfleet Captains through interstellar means. Its designed to be used on the Sovereign-class starships, the design is now back in to high production through Starfleet. (Star Trek: Intrepid)
Development
Edit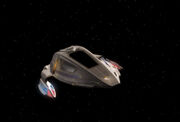 The Type 18H was brought in to service in 2380 when Admiral Kathryn Janeway stated she found being flown around in Type 9's as uncomfortable, and the use of Type 11 shuttlecrafts was an insufficient use of their purpose. The shuttle was capable of achieving the speed of at least warp 6.
Admiral Janeway ordered the Starfleet Corps of Engineers to come up with a design which was appropriate to transport important dignitaries in comfort and security through interstellar means. Months later the type 18H was designed and was put in to small construction to be used by Starfleet flag officers (and other high ranking officers) stationed at Starfleet Command Headquarters and also Starfleet Captains.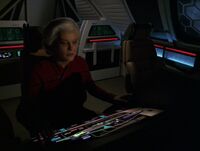 The users of this craft were highly impressed and Starfleet pushed for the class to enter service to the rest of the Federation and fleet.
In 2380, the SC-4 was built at Utopia Planitia shipyards and was given to Captain Typhuss James Kira by Admiral Kathryn Janeway for use as his personal shuttlecraft to keep. The type 18H shuttlecraft was based on Admiral Janeway's shuttlecraft from 2404. (Star Trek: Intrepid)
Prototype
Edit
It is now currently the test bed for further enhancements for shuttlecraft design and technology, including the use of stealth like cloaking system which would make the shuttlecraft invisible.
It is also the prototype in Starfleet's attempt to install ablative hull armor generators to a smaller vessel without using too much power. The type 18H was also equipped with ablative hull armor.
The shielding is capable of withstanding substantial enemy bombardment yet not retard the maneuvering ability or weapons capability of the vessel on which the armor is installed. Weapons fire is easily absorbed by the ablative armor.
The shuttlecraft includes a defensive shield that is virtually impenetrable to both Klingon and Borg weapons although not to Borg-locating scans. Located on the underside of the main hull are a series of transporter emitters, allowing the occupant to beam into or out of the vessel. This type of shuttle was similar to the type 9 shuttlecraft, but more streamlined. (Star Trek: Intrepid)
Known shuttles
Edit
Ad blocker interference detected!
Wikia is a free-to-use site that makes money from advertising. We have a modified experience for viewers using ad blockers

Wikia is not accessible if you've made further modifications. Remove the custom ad blocker rule(s) and the page will load as expected.