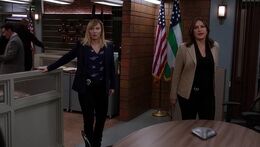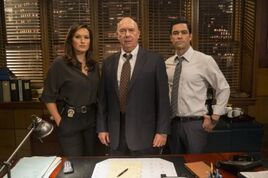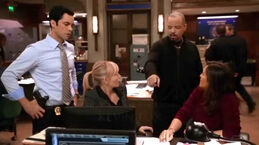 The Special Victims Unit (SVU) is a division within the Starfleet Criminal Investigative Service. The Detectives in this division investigate crimes involving sexual assault, the very young, or the very elderly, as well as any crime loosely connected with any of the three. The unit also deals with murder, abduction, robbery. The unit is housed in several different boroughs.
The new commanding officer of SVU is Lieutenant Olivia Benson. It was formerly headed by Captain Donald Cragen from 2360 to 2388.
Known members
Edit
Known members of Special Victims Unit (SVU) include:
Commanding officers
Edit
Squad supervisors
Edit
Manhattan SVU
Edit
The unit is located within the 16th Precinct in Manhattan, New York City.
The Special Victims Unit works with a special divison of the Manhattan District Attorney's Office called the Sex Crimes Bureau.
Other SVUs
Edit
The Bronx SVU unit is located in The Bronx. The Brooklyn SVU unit is located in Brooklyn and Detective Chester Lake is a transfer from Brooklyn SVU. The Queens SVU unit is located in Queens.
Ad blocker interference detected!
Wikia is a free-to-use site that makes money from advertising. We have a modified experience for viewers using ad blockers

Wikia is not accessible if you've made further modifications. Remove the custom ad blocker rule(s) and the page will load as expected.