This page details Jane Smith in the primary universe; for the Jane Smith in the mirror universe see Jane Smith (mirror); for the Jane Smith in the alternate reality created by Nero's temporal incursion see Jane Smith (alternate reality); for the Jane Smith in all other alternate universes see Jane Smith (alternates).
BIOGRAPHY
Jane Smith
Lara Croft

Jane Smith in 2386
Full Name:
Jane Smith
Lara Croft
Species:
Human
Gender:
Female
Height:
5 ft 6½ in or 169 cm
Weight:
58 kg or 128 pounds
Eye color:
Green
Hair color:
Dark Brown
Homeworld:
Earth
Birthplace:
San Francisco, California, Earth
Born:
April 17th, 2333
Affiliation:
Federation
Starfleet
Starfleet Intelligence
Family
Mother:
Marcia Smith
(née Croft)
(d. 2375)
Father:
Jonathan Smith
(d. 2376)
Marital Status:
Single
Spouse(s):
Typhuss James Halliwell
(m. 2354, divorced)
Children:
Janet Smith
(b. 2354),
Penny Smith
(b. 2354)
Career
Occupation:
Starfleet officer,
Countess of Abbington,
archeologist
Assignment:
Starfleet Intelligence
,operative,
agent
Rank:
Commander, SI agent, SI operative, formerly Ensign, Lieutenant JG and Lieutenant, Lieutenant Commander
Jane Smith (born Lara Croft, nationality British) is a female Human born on Earth in 2333. In 2354, Jane started to date a man named Typhuss James Halliwell. By 2354, Jane joined Starfleet Intelligence. Her boss in Starfleet Intelligence was Director Jennifer Shepard during the 2350's and 2360's and 2370's and 2380's.
Following her mother's death in 2375, Jane became the heir countess, and following her father's believed death on May 17, 2376, became the heir owner to the Abbingdon Estate in Buckinghamshire, England.
She became like her father, an archaeologist, on the trail of mythological artefacts which she donated to the British Museum. Lara hired computer technical wiz, Bryce, who worked for her at the Croft Estate as her technical assist. Bryce took up residence in a shuttle in the front courtyard of the manor.
Early life
Edit
Jane Smith was born on April 17th in 2333 to Jonathan Smith and Marcia Smith in San Francisco, California on Earth.
Starfleet Academy
Edit
Jane entered Starfleet Academy in 2350. Jane took classes to become a bridge officer. Jane also took fighting classes so she knew how to fight. Jane took Interspecies Protocol in her first year at the academy. Jane also took Zero-G combat training in her second year at the academy. Jane also took classes such as Engineering, Klingon Physiology, Survival Strategies , Temporal Mechanics and Transporter Theory in her third year at the academy.
Jane also took classes such as Forensic Psychology , Basic Warp Design , Advanced hand-to-hand combat and Early Starfleet History in her fourth year at the academy. In 2354 Jane graduated from Starfleet Academy. Jane was promoted to Ensign, later that year Jane was assigned to work in Starfleet Intelligence and was promoted to Lieutenant Junior Grade.
Starfleet
Edit
Starfleet Intelligence
Edit
In 2354 Jane joined Starfleet Intelligence as an agent and operative under the command of Director Jennifer Shepard. In 2355 Jane was promoted to Lieutenant by Jennifer Shepard.
In early 2357, Jane was promoted to Lieutenant Commander by Jennifer Shepard. In 2371, Jane was promoted to Commander by Jennifer Shepard.
In 2385, Shepard was replaced as Director of Starfleet Intelligence by Vice Admiral Marta Batanides. Jane had to get used to her new Director, Vice Admiral Marta Batanides.
Admiral Batanides made Shepard Director of Covert Ops. As of 2388 Shepard is still Director of Covert Ops. By 2389, Shepard was still Director of Covert Ops.
Relationships
Edit
Typhuss James Halliwell
Edit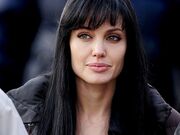 In 2354 Jane first met Typhuss James Halliwell at a bar. Jane and Typhuss fell in love. Jane took Typhuss back to her house and had sex with him. They started dating. Two months later they got married and eight months later their relationship was not working and they got a divorce.
A week later Jane found out that she was pregnant. Nine months later Jane's daughter, Janet Smith was born on June 2nd and Jane would later Typhuss about his daughter in 2386. (Star Trek: Kingston episode: "Revelations")
Discoveries
Edit
The Clock (in her home)
Triangle of Light (in Cambodia and Siberia)
Mati (in Santorini, Greece)
Pandora's Box (in Africa)
Ad blocker interference detected!
Wikia is a free-to-use site that makes money from advertising. We have a modified experience for viewers using ad blockers

Wikia is not accessible if you've made further modifications. Remove the custom ad blocker rule(s) and the page will load as expected.