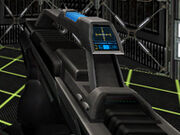 The enhanced compression rifle was a type of rifle weapon, an upgrade to the standard compression phaser rifle that could fire both phaser blasts and grenades. This new and improved version sports a higher rate and more rapid bursts of phaser fire than its predecessor, and has a nose-mounted grenade launcher, making it extremely suitable for some hazard team missions. Ensign Korban assisted with the designs of upgrades to this device.
Ad blocker interference detected!
Wikia is a free-to-use site that makes money from advertising. We have a modified experience for viewers using ad blockers

Wikia is not accessible if you've made further modifications. Remove the custom ad blocker rule(s) and the page will load as expected.