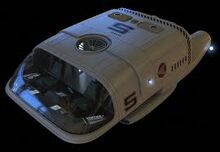 The Class I shuttlecraft, was an unsucessful class of shuttlecraft used by Starfleet in the late 23rd and early 24th centuries, although some remained in use on Earth until the mid 24th century.
Although an unsuccessful class of shuttle, the Class I design was later modified as a tug, which fared quite better than its shuttle counterparts. The tractor emitters were located at the aft of the vehicle in the half-circular rims between the engines.
Ad blocker interference detected!
Wikia is a free-to-use site that makes money from advertising. We have a modified experience for viewers using ad blockers

Wikia is not accessible if you've made further modifications. Remove the custom ad blocker rule(s) and the page will load as expected.