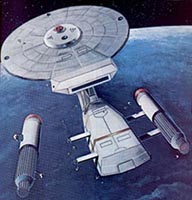 The Baton Rouge-class was a type of Federation starship in use in the 23rd century. (TOS reference: Spaceflight Chronology, TOS novel: The Final Reflection)
Known ships
Edit
USS Baton Rouge
USS Glasgow
USS Hokkaido
USS Moscow
USS Savannah
USS Savannah II
USS Tehran
The comic The Enterprise Murder Case! depicted the USS Republic as a Baton Rouge-class ship with the registry of NCC-1378.
Service life
Edit
The Spaceflight Chronology lists the Baton Rouge-class' time in service as being from 2170 SFC to 2210 SFC. Since the SFC timeline and the canon timeline are so different, service dates cannot be precisely converted; the best approximation would put the date range from circa 2226 to the mid-2270s. The class entered service in 2196.
Ad blocker interference detected!
Wikia is a free-to-use site that makes money from advertising. We have a modified experience for viewers using ad blockers

Wikia is not accessible if you've made further modifications. Remove the custom ad blocker rule(s) and the page will load as expected.